"Working with me is about learning new ways to approach and navigate relationships - from your relationship with your own body, to your relationships with others, via your relationship with touch and pleasure"

Presence
Learn to notice your desires in each moment
Permission
Believe that what you want matters
Pleasure
Help your body (re)discover how to feel
If you're new to one-to-one in-person coaching with me, there's a simple 3-stage pathway the first time we work together:
Free clarity call of up to 30 minutes. This is a relaxed, no-obligation chance for us to connect online - for you to ask questions and for me to make sure I'm able to offer what you're looking for.
Introductory 3-hour online coaching session. We'll put practical foundations in place to create connection with your own body, build our working connection, and prepare for our time in person together. And we'll discuss in more detail what you want to explore in the intensive.
1-day intensive in person. This is where we get to work together body to body. The day is split into 2 3-hour sessions, with a break in the middle. Each session is gently guided, and personalised to help you maximise your learning and experience, and can include self-touch, one-way, or two-way touch.
Or explore my coaching programmes below...
The adult-ed college course you never imagined was possible!
If you wanted to up-skill, or retrain, you'd go back to college. Why treat sex and intimacy any differently? Welcome to my core coaching programme for men who want to build a new relationship with intimate giving and receiving.

If you want to revolutionise how you experience touch and pleasure in your life, this programme is for you!
Using hands-on interactive practices developed over several decades, this comprehensive course will give you the skills and confidence to enjoy touch to the full when you're with someone else.
The beauty of this programme is that you don't need to commit to the whole thing upfront. Each level builds on the last and can be taken in stages when you are ready, making it more affordable and easier to access.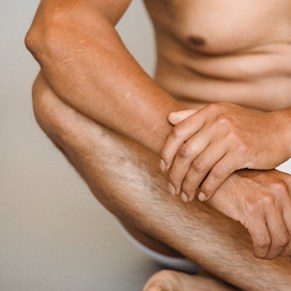 The Touching For Pleasure programme starts with this simple 2-session online introduction. Learn 4 foundational approaches to help you improve touch, sensation, and intimacy - and have more mutually satisfying interactions.
Each further level of the programme takes place in person, and offers guided opportunities for hands-on, interactive, clothing optional and erotic touch.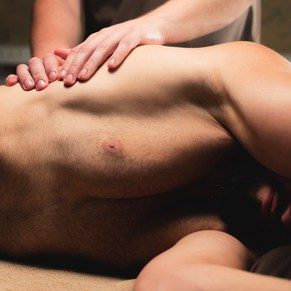 Explore and practice 2 ways to get the gift of whatever feels most enjoyable for you. Learn how to take pleasure without taking advantage.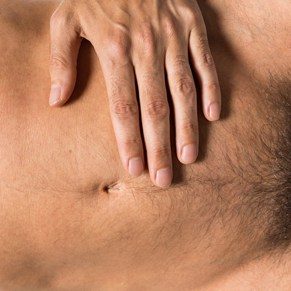 Explore and practice 2 ways to give the gift of pleasure joyfully - no more enduring or feeling obliged. Learn how to bring generosity to your giving.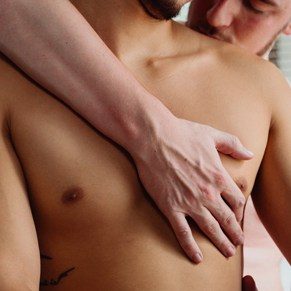 Bring together all the tools you've learned, in a structured play lab tailored to help you safely deepen your sensual skills for giving and receiving.
More ways you can work with me
If you're looking for mindful gay sex and intimacy coaching or support with a specific focus, I offer a mix of online and in person options:
My Coaching Progammes focus on some of the most effective ways I've found to support and empower clients. These are dynamic, multi-session pathways that are anything but 'one-size-fits-all'!
Tailored Coaching Intensives with me offer a chance to access support which is personalised to you, in a more immersive and concentrated way. I offer these in person and online.
I also offer non-erotic coaching for help navigating interactions and relationships with family, friends, partners, even work colleagues.

Immersive touch-based learning environments which are personalised for you

Life-skills for your love-life
Take your next steps towards a more connected love-life:
This is an informal video call of up to 30 minutes - an opportunity to chat with me and ask questions, with no obligation.

For individuals
From self-pleasure practice, to interactive erotic learning, whether online or in person, all one-to-one sessions with me are led by your body and your needs.

For couples
I can work with you both, online or in person, to help you open up new ways of creating mutually satisfying interactions, and learn new ways of communicating.
What is mindful sex coaching?
Mindful gay sex and intimacy coaching can help you with connection to self, confidence with what you want, improved relationships, deeper pleasure, more authentic arousal, better sex... and much more. When it comes to pleasure your journey really is as important as your destination!

Why choose mindful sex coaching with me?
When it comes to pleasure and intimacy your body actually already has all the knowledge it needs - I simply help you to access it.
Using body-based principles I work collaboratively with you, giving you tools to help you (re)connect with yourself, and others.
I'm almost unique in the UK in offering hands-on sex and intimacy coaching for gay men which is about learning and experiencing.
Whether you want to explore self-touch, one-way touch, or two-way touch, I combine years of training with intuitive sensitivity to create spaces with safety built in.

My mindful gay sex and intimacy coaching programmes and tailored intensives offer a space in which you can be held as safely as possible, and fully seen and heard, without judgement.
I'm based near the Scottish Highlands in the UK, offering sessions there, as well as London, Edinburgh, and online.
Who do I work with?
You'll see me use the words 'gay', 'man' and 'male' on this site because they're common terms many people I work with search for when looking for support around intimacy, touch, pleasure or sex.
And I know all those words can mean very different things for different people - my own relationship with them is not fixed.
I work mainly with people who identify as male in some way, but however you describe yourself, you are welcome here – and I hope I may be able to support you.
Can I fix your sexual problems?
Many people try to fix their sexual problems by looking through too narrow a lens. I focus on recalibrating, rather than fixing...

"My work with Michael was transformative.  Michael's great skill lies in his intuitive sense and our work together provided a gateway to a deeper connection in my body / mind"
"I can't imagine having made a better choice with my weekend. Your coaching allowed impressive learning and growth in such a short time"
"Michael is a wonderful facilitator. He creates a safe space so I completely trusted him and could relax ... I benefited immensely from what I learnt and what I felt"
Great sex requires more than just getting permission. Find out about the other essential intimacy dynamic we don't even have a name for.
Read More
© Mindful Gay Sex Coaching. All Rights Reserved